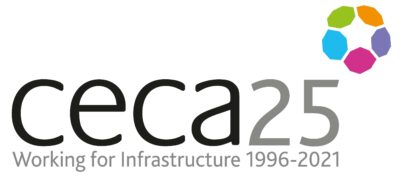 The Civil Engineering Contractors Association (CECA) is celebrating its 25th year of representing our members and working for infrastructure with an online conference held over separate sessions between 23-26 November 2021.
With our roots in representing the UK's civil engineering contractors stretching back to the 1919 foundation of the Federation of Civil Engineering Contractors, CECA took its modern form in 1996, and is composed of six offices based in the regions of England, offices in the devolved nations of Scotland and Wales, and a national office at the heart of Westminster.
Our membership now encompasses more than 300 companies across England, Scotland, and Wales, who between them deliver more than 80 per cent of all civil engineering activity in the UK, employ over 250,000 people, and represent annual activity worth over £15 billion to the UK economy.
At CECA's anniversary conference, which will be held over several sessions online and which is free to attend, we will hear from industry experts on how we can deliver better outcomes in infrastructure delivery. Speakers will include representatives of:
Centre of Construction Law, King's College London
Cabinet Office
HS2
National Highways
National Grid
Balfour Beatty
Skanska
Sellafield
Canal & River Trust
Welsh Government
Collaborative Construction Procurement Training Hub
Click here to download the full agenda. If you would like to attend any or all of these online sessions, contact CECA Director of External Affairs Marie-Claude Hemming.
Commenting, CECA Chief Executive Alasdair Reisner said: "We are delighted to have reached the milestone of having represented our members and working for infrastructure for a quarter of a century.
"Throughout my time at CECA I have always been proud of the work our members do, which changes lives for the better, creates fulfilling and diverse jobs in all parts of the country, and contributes so much to the UK economy.
"The past twenty-five years have seen a pace of change in our industry that has been astonishing to behold, weathering the storms of the financial crisis and most recently the COVID-19 pandemic.
"Throughout it all CECA members have led the way in delivering growth in the economy, improving the lives of communities and making Britain a better place to live, work, and do business.
"Our 25th Anniversary Conference is an opportunity not only to celebrate that legacy, but to look forward to the future challenges our members will no doubt rise to, whether it is building back better after COVID-19, leading the way in decarbonising our industry, and delivering the infrastructure that communities and businesses will rely upon across the UK in the 21st century."