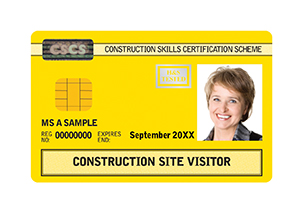 The Construction Skills Certification Scheme (CSCS) is to withdraw the Construction Site Visitor Card, the only remaining card issued without the need for an applicant to achieve a recognised qualification.
Originally introduced for workers who often did not perform a construction-related role but visited site on a regular basis, the card is being withdrawn in support of industry's desire for a fully qualified workforce.
All Construction Site Visitor Cards issued from 3 September 2018 will expire on 31 August 2020. CSCS will stop issuing the card altogether from 28 February 2020.
For the avoidance of doubt, all Construction Site Visitor Cards issued before 3 September 2018 will remain valid until their expiry date.
Many people holding the Construction Site Visitor card will not be required to obtain another CSCS card. CSCS cards are intended for construction related occupations only and many people holding the card work in roles considered to be non-construction related, such as site cleaning and catering staff. Historically these workers have applied for the Construction Site Visitor card because they were told to do so by their employer, this was often a result of policies requiring sites to be 100% carded, as opposed to construction workers being 100% qualified.
However, those with Site Visitor cards that work in construction related occupations must now start to develop plans to move across to the appropriate skilled card. For some this will be straightforward as they will already hold the appropriate qualification or membership of a recognised professional body. Those working in construction related occupations without qualifications will be expected to register onto the appropriate qualification before their Construction Site Visitor card expires.
Commenting, CSCS Chief Executive Graham Wren said: "The withdrawal of the Site Visitor card will see an increase in the numbers of individuals turning up to site without a card. We are not suggesting site supervisors and managers turn non-cardholders away from site. If a worker is there to carry out a construction related activity then a card is required as proof of their training and qualifications. If they are there to perform a non-construction related activity it then becomes the responsibility of site supervisors and managers to induct and supervise these people to ensure they remain safe at all times when on site."
The decision to withdraw the Site Visitor card is supported by the Construction Leadership Council's recent announcement that not everyone needs a card to gain access to site and cards should only be issued to those working in construction related occupations.
Visit www.cscs.uk.com/visitorcard to find out what steps you need to take to replace your Construction Site Visitor card.