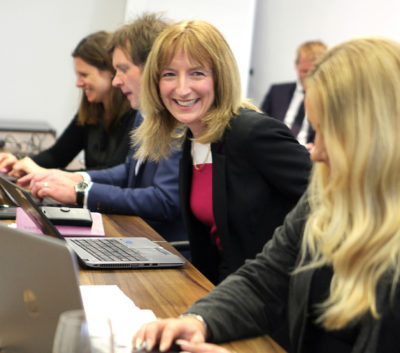 It has been very satisfying to see a lot of change in the industry and within Morgan Sindall Construction & Infrastructure in recent years, but there is always more to be done.
Construction is traditionally, and remains, a male-dominated industry, often generalised as having long hours and difficult site conditions – a culture that has not always been appealing to those who want to balance family life with a career.
Since joining Morgan Sindall Construction & Infrastructure in 2014, I have been working with all of our teams to look to implement positive cultural change, behaviours and ways of working to change traditional perceptions of how we work, think, recruit and develop our people.  We want to ensure our organisation is one which values the work / life balance of our employees and will encourage people from all backgrounds to either stay within, or consider starting, a career in the industry.
It has become more evident in recent years that the organisations who stand out to potential employees are those that acknowledge that employees have a life and commitments outside of work, but at the same time are fully committed to their career development and progression.
By developing a culture that accommodates this balance, Morgan Sindall Construction & Infrastructure is aiming to meet these needs, and attract not just those with experience in the industry, but also those who have worked in alternative industries who can bring new ideas and approaches, at a time when construction and the infrastructure industry is facing a national skills shortage.
And our efforts have born fruit. The number of female employees at Morgan Sindall Construction & Infrastructure has risen from 10 per cent of the workforce in 2016, to 21.5 per cent last year.   We now have a 100% return rate from maternity leave over the last 12 months and 65 per cent of women have returned to flexible working arrangements over the last two years.
62 per cent of our workforce now have either a formal or informal flexible working arrangement.  This family-friendly culture has been key to attracting a more diverse workforce, along with innovative recruitment programme such as our Returnship scheme, which saw over 90 applicants for the first scheme in 2017, an even bigger number for the second scheme in 2018 and an almost equal gender split of applicants for both programmes.
Ahead of International Women's Day (Friday 8 March), I'd like to take the opportunity not just to celebrate the changes we've made to our business to attract more women to work for us, but to highlight the need for the sector to continue to change its traditional thinking and behaviours to make the industry as attractive as it can be to all current and potential employees. Flexible working, for example, while it enables employers to attract women into the workforce, is a benefit to everyone – it drives productivity, makes workplace cultures more attractive, and family-friendly.
For more information on Morgan Sindall Construction & Infrastructure, click here.