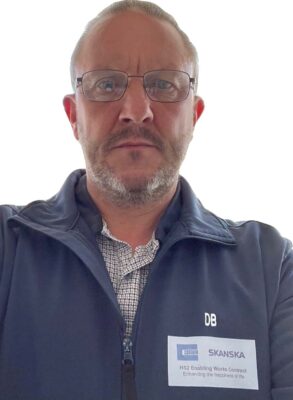 The array of challenges presented by vast public sector projects can be daunting. Yet, a willingness to embrace innovative and integrated solutions in this high-pressure environment creates opportunities to drive the industry forward.
Having an in-house geospatial survey team within the Costain Skanska joint venture (CSjv), working on the HS2 Area South Enabling Works, gave us immense scope to introduce innovative surveying methods. Time and again, these innovations produced benefits to both safety and efficiency.
To complement traditional, manual surveying techniques, we used the digital techniques of photogrammetry and laser scanning. As a result, we could rapidly collect and store vast amounts of high-quality data while minimising operatives' exposure to risk. These 'right first time' solutions enabled end users (designers, planners, BIM, safety teams) to extract information when required without expensive, and safety compromising, reworks.
Innovative photogrammetry techniques had a range of benefits, from removing the need for confined space entry to ensuring the programme kept up to pace across the project.
For instance, our in-house unmanned aerial vehicle (UAV) operators conducted airborne photogrammetry surveys of old buildings to eliminate multiple health hazards of operatives entering the structure, including potential exposure to asbestos.
In an industry-leading move, we enabled site operatives to conduct terrestrial photogrammetry using just their mobile phones. Utilising a bespoke smartphone app, site operatives could survey trial holes or newly installed services then backfill them without delay. This removed the need for the survey team to arrive and conduct surveys with specialist equipment, helping us maintain the programme plan.
Cutting-edge photogrammetry techniques were also used to ensure Europe's largest excavation of its kind – at St James's Gardens in Euston – maintained its pace. We then used UAVs to collect photogrammetry data of the site. This was then converted into reliable soil volume measures and used to plan how many vehicles would be required to remove soil from site, a pivotal part of keeping to the programme
Laser scanning was pivotal to conduct surveys of spaces and assets that photogrammetry cannot accurately capture.
To provide high quality surveys in underground spaces with low light levels, we lowered small laser scanners mounted on inverted tripods into the voids. This eradicated the need for confined space entry by an operative and with it the PPE, specialist training and temporary works required to facilitate that.
A series of new tunnels are required within Euston Station, behind existing pedestrian tunnels constructed in the early 1900s. We conducted specialist surveys including ground investigation and unexploded ordnance (UXO) surveys to evaluate the construct behind pedestrian tunnels. Conventional methods would have required the advertisement tiles and hoardings to be removed and access closed to London Underground passengers for a significant period of time. Instead, our value engineering approach meant we conducted full laser scans of the asset and displayed this onto the design model to enable exact scoping details. This precision reduced the amount of site visits and speculative surveys, lowering risk and cost.
We also deployed a patch scanning methodology for structural monitoring of heritage assets in Euston. This involved placing equipment at certain points at a distance from the building and collecting small-scale laser scans at regular intervals that would then be compared to determine any structural movement. This removed the need to affix monitoring kit to the assets themselves, creating cost and time efficiencies, protecting the assets themselves, and protecting the safety of our operatives by removing the need for working at height.
Across the Area South Enabling Works, we eliminated 43,000 person hours by using digital surveys, a significant triumph in guarding the safety of site operatives and improving overall efficiency. Embracing innovative solutions on large projects can yield a breadth of overlapping benefits that whittle down risk and improve efficiency, while ensuring quality is not compromised.