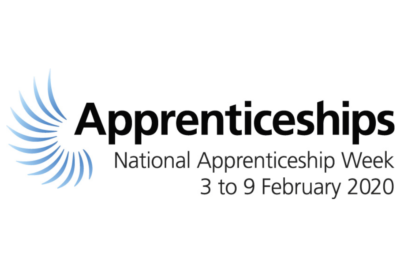 The thirteenth annual National Apprenticeship Week begins today, and business meetings, open days, celebration events and parents evenings are being held in workplaces, schools and training providers premises across the country.
For the first time, National Apprenticeship Week includes weekend activity, with many employers opening their doors to young people and their parents at open day events.
This year, the theme 'Look Beyond' celebrates the diversity in apprenticeships today. Bringing the whole apprenticeship community together, the Week celebrates the impact of apprenticeships on individuals, employers and the economy.
For those individuals and employers looking to find out more about apprenticeships, current and past apprentices, and apprentice employers will support online Q&A sessions to answer questions about apprenticeships.
Individuals interested in finding out about apprenticeships can join the #AskAnApprentice Q&A on Twitter on Wednesday 5 February, whilst employers interested in finding out more about the business benefits in recruiting apprentices can join the #AskAnEmployer Q&A on Thursday 6 February. Both Q&As run from 12.00pm – 2.00pm.
Commenting, CECA chief executive Alasdair Reisner said: "CECA is a strong supporter of National Apprenticeship Week, which shines a light on the many apprenticeships available in the construction and infrastructure sectors across the country.
"We look forward to supporting our members' activities this week, and to highlight the opportunities apprenticeships offer for the workforce of tomorrow to gain skills and experience in our industry.
"CECA members see apprenticeships as the number one route into our industry, enabling participants to earn while they learn.
"At the same time, the apprenticeship landscape has been a challenging one for industry in recent years, and we have seen a reduction in the intermediate apprenticeships that are so vital for civils contractors.
"We look forward to working with government, our members, and all stakeholders, to turn this situation around, and to boost the number of new entrants to our sector, at a time when they will be required to deliver the ambitious 'infrastructure revolution' the economy requires."
Keep up to date with news on National Apprenticeship Week by following @Apprenticeships on Twitter. To find out more about events happening near you, click here. Further information on apprenticeships in construction, for both employers and prospective applicants, is available via the CITB website.