Transport Minister Jessie Norman MP today delivered a written statement to Parliament in which he announced the preferred corridor for the new Oxford to Cambridge Expressway, accepting the recommendations of Highways England.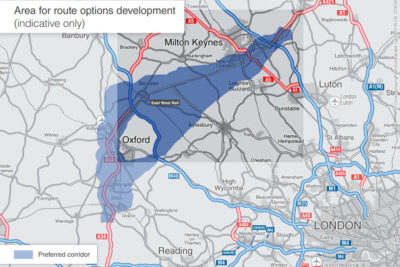 Above: Area for route options development (indicative only). Image: The Department for Transport
The expressway is projected to take up to 40 minutes off the journey between the A34 south of Oxford and the M1, and will work together the with proposed East West rail link to revolutionise east-west connectivity. In so doing, it will unlock the commercial development of up to one million new homes. It will also put hundreds of thousands of people within reach of high quality jobs in centres of rapid growth, such as Oxford Science Park.
Today's decision determines the broad area within which the road will be developed. The process of designing a specific route will now get underway, involving consultation with people who live in the area. Members of the public will be able to comment on the full set of front-running designs in a public consultation in 2019, with the road on schedule to be open to traffic by 2030.
Commenting, the Exchequer Secretary to the Treasury, Robert Jenrick, said: "The Oxford to Cambridge arc is one of the greatest opportunities for economic growth in Europe. We want to realise that potential by investing in the new infrastructure the area needs and the Oxford to Cambridge Expressway is an important part of our plan.
"The Expressway will provide a link between 2 of the country's intellectual powerhouses and open up vital jobs, skills and housing opportunities to transform the region's economy."
The Government further recognised that no single corridor can support every proposed development across the area, and has commissioned England's Economic Heartland to carry out a study of how to provide better connectivity across the wider area. CECA will be seeking to engage with this work and will keep members informed in due course.