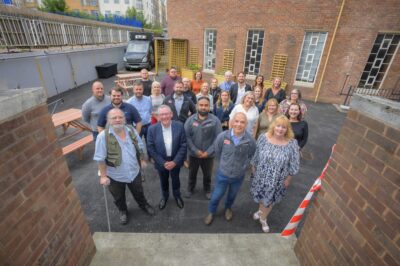 A celebration event saw the official opening of a new outdoor community space for a project that supports homeless people in the Midlands.
Cllr Bob Sleigh, Deputy Mayor of the West Midlands Combined Authority (WMCA), was present to open the new community garden at homeless charity Tabor Living's home at St Catherine of Siena Church in Birmingham.
The project was made possible by support and funding by leading business organisation The Civil Engineering Contractors Association (CECA) Midlands and its members.
More than 25 people, including representatives from Tabor Living and CECA businesses that supported the initiative, gathered to celebrate the completion of the work.
CECA Midlands and its members invested more than £65,000 including materials and labour to create the new space.
This has included a full renovation of the space, including cleaning and tarmacking the whole area, installing planters with plants, a new garage door and more.
Cllr Bob Sleigh, who was deputising for Mayor of the West Midlands Andy Street on the day, said: "I'm very impressed with this project and with what CECA has done to bring the partners together to do this amazing piece of work which will bring real social value for the people who use Tabor Living on Bristol Street.
"It leaves an important legacy for all of those people who can enjoy this space when they come here. I've seen the work that Tabor Living has done and it is very impressive when you consider the task that they had in front of them.
"CECA, with the help of Tabor Living, has brought this all together, the contractors and companies involved have given time and money to support this and have got a lot out of it.
"We support further schemes like this and if anyone has similar projects, then please get in touch and if we can help, we will."
Click above to watch a short video of the opening. If you would like to know more about Tabor Living, including details of how to donate to this worthy cause, visit their website at www.taborliving.co.uk.
CECA is the representative body for companies who work day-to-day to deliver, upgrade and maintain the country's infrastructure.
Businesses who supported the project included Currall, Lewis and Martin, R&C Williams, Amberon, Highways Traffic Management, Tilbury Douglas, Aggregate, Kier, Buckingham Group, Galliford Try, Carnell, WINVIC and Forkers.
CECA Midlands nominated Tabor Living as its chosen charity for 2023 and plans to continue to support the charity moving forwards, with one of its members Kier working on a work experience programme for the individuals that Tabor Living supports.
Ron Pinfield, Chair of CECA Midlands, said: "I'm glad the sun shined for us and it was a lovely afternoon celebrating this project. I'm delighted it has gone so well.
"CECA Midlands has around 70 members and we're always well supported on community projects. Whether that be painting, tidying the area or laying the tarmac – everyone had a chance to get involved.
"Our members are always very keen to help on projects like this, a lot of people live locally and to see the impact first-hand of a project like this on their communities is fantastic."
Tabor Living, in partnership with Father Hudson's Care, provides accommodation and support for those experiencing or at risk of homelessness.
The charity aims to create communities that help its guests to progress in their lives. It helps guests to find work and gain everything they need to progress to the charity's independent living space, where they can stay until they are able to move to a home of their own.
Sharon Fear, Project Manager at Tabor Living, added: "The ethos of this project was always about creating communities and bringing everyone together. Our guests have already been enjoying the space, and the church and the parish community will also be using the space.
"It was a very old and tired space before, but it had the potential to be at the heart of our home here.
"The parish of St Catherine's has been delighted with the transformation and the opportunity to work with Tabor Living and CECA Midlands on this too.
"We put a wish list together of what we would love here and CECA has been amazing, creating this wonderful space.
"We've had everything from our wish list and I couldn't ask for anything more."
< ENDS >