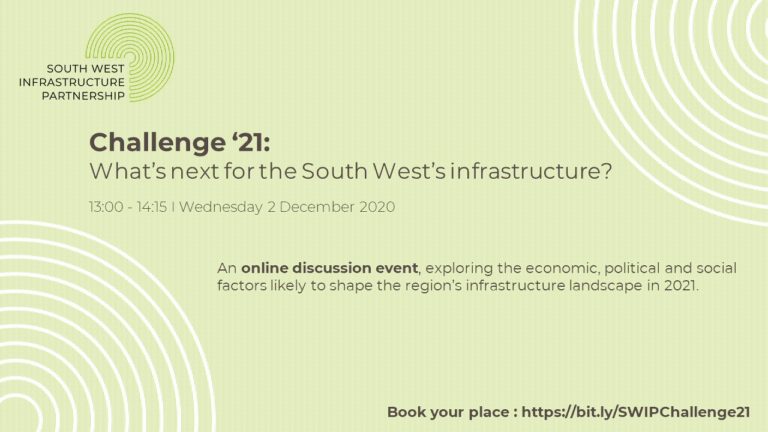 Challenge '21: What's next for the South West's infrastructure?
Wednesday 2 December 2020, 13:00 – 14:15
Book here: https://www.ice.org.uk/events/challenge-21-sw-infrastructure-online
This will be an online discussion event, organised by the South West Infrastructure Partnership (SWIP), on the regional infrastructure landscape, exploring the economic, political, and social factors that are likely to shape the year ahead.
What have we learned in 2020 that can help us do better in the future? What are the specific regional challenges that might require a different approach to the rest of the UK? And above all, how can we make the most of the opportunities to improve the South West's infrastructure for good?
Topics covered will include:
Covid-19 lessons
Immediate challenges and opportunities for 2021
Progress towards net zero infrastructure
Implications of Brexit
Government funding and investment
Peter Kydd, SWIP Chair, will host a panel of regional influencers from the public and private sector.  The panellists are:
Dave Ellis, CECA SW Chairman and Managing Director, Bridge Civil Engineering
Paula Hewitt, Lead Director for Economic and Community Infrastructure & Director of Commissioning, Somerset County Council and Vice President of ADEPT
Freddie Hopkinson, Senior Policy Adviser, Confederation of British Industry (CBI)
Jo Jolly, Deputy Director – National Environmental Assessment & Sustainability and Programme & Contract Management, Environment Agency
John Sellgren, Executive Director of Place, Dorset Council