CECA Y&H, Civils Training Group and Construction Marine Ltd were delighted to be asked to deliver three days of Civil Engineering and Construction activities for Year 3 to 6 pupils at Carlton Primary School.
The first two days saw 90 students from Years 5 and 6 building, testing and deconstructing a 14 metre long cable-stayed bridge.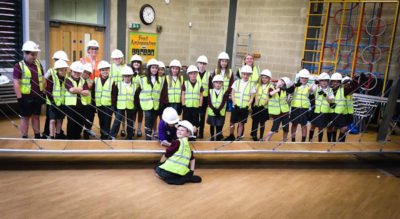 The activity lasted two hours and provided an insight into the civil engineering industry and occupations, as well as giving the students the opportunity to construct a bridge using design drawing.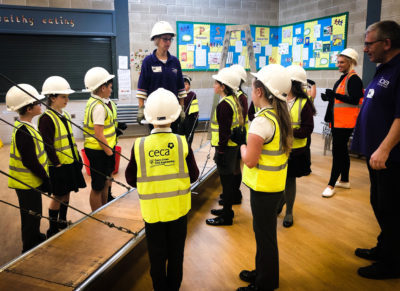 Teams of 10-15 pupils using teamwork, communication and problem-solving skills to ensure the bridge was constructed correctly and to specification.
The bridge was then tested and all students had the chance to walk across the structure.
They were then given a talk on the principles behind bridge-building, including the concepts of tension, compression and equilibrium, before they safely and efficiently demolished the bridge.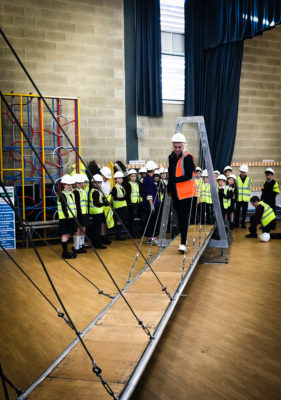 Feedback on these activities were excellent, with students enthusiastically taking on the roles of Project Manager, Site Manager, Health & Safety and Operatives. We definitely found at least one future CEO as well!
The teachers involved were also really pleased with the activities, and the fact that all pupils could get involved – no matter what their interests or strengths were.
The third day saw 85 Year 3 and 4 students getting hands-on and having the chance to build tetrahedrons with wooden dowels and elastic bands. After a discussion about construction and civil engineering, students were tasked with working in teams to construct small then large tetrahedron structures.
The groups really enjoyed and engaged with the activities, with some really getting to grips with the structures quickly.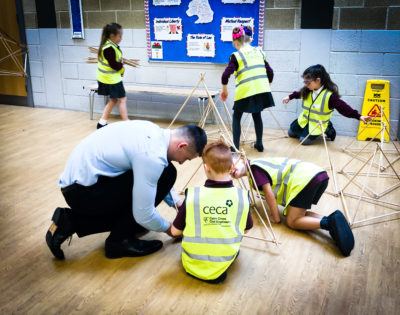 Kieran Taylor (CML) demonstrates the construction of a tetrahedronThank you to Angie Leigh, Claire Crossland, Lois Thorne, Kieran Taylor and  Lauren Vasey from Construction Marine Ltd who supported the events as Construction Ambassadors.  Also thank you to Jamie and Andrea Mackay, Bridge Ambassadors from ICE East Midlands, for their excellent work with the cable-stayed bridge.