CECA Southern is delighted to launch our Awards for 2022. These Awards celebrate the best people and our award categories for 2022 are:
Please confirm your intention to nominate in one or more categories by email to Leone Donnelly no later than Thursday 14 April 2022.
Nomination forms should be completed and returned no later than Monday 23 May 2022.
Please note that submissions are restricted to two per category per member company, however, you can still submit in all seven categories.
The Awards will be presented at the CECA (Southern) Annual Lunch in London on Friday 1 July 2022 (full details of the Lunch will be circulated to members shortly).
The winner will receive an inscribed memento and cash prize of £500.
In addition, depending on the quality of nominations received, the Board may decide to make a "Highly Commended" award to the runner up in one or more of the categories. These awards, worth £250, will be presented subsequently at the recipient's place of work.
We look forward to receiving your submission and announcing the winners at the Lunch to celebrate the remarkable achievements of the young women and men who are our rising stars.
CONGRATULATIONS TO OUR 2021 AWARD WINNERS:
Most Promising Industrial Placement – Henry Paveley – see Henry's video here
Most Promising Apprentice – Alex Viner – see Alex's video here
Most Promising Trainee Quantity Surveyor – Alice Stewardson – see Alice's video here
Most Promising Trainee Civil Engineer – Naim Suleiman – see Naim's video here
The Awards event took place on Friday 2 July 2021 at 2pm at the Crowne Plaza London Gatwick and was hosted by Amy Williams MBE, Britain's gold medal heroine at the 2010 Winter Olympic Games, along with CECA Southern Chair, Samantha Barratt, and NextGen CECA Southern Foundations Group Chair, Ian Alberto.
The virtual event was live streamed on You Tube. You can watch it here.
Each winner received an inscribed memento and cash prize of £500.
The judges were also pleased to make some "Highly Commended" awards. These awards are worth £250.
Highly Commended Industrial Placement – Riana Hattrell
Highly Commended Industrial Placement – Prince Bahati
Highly Commended Apprentice – Elizabeth Lewis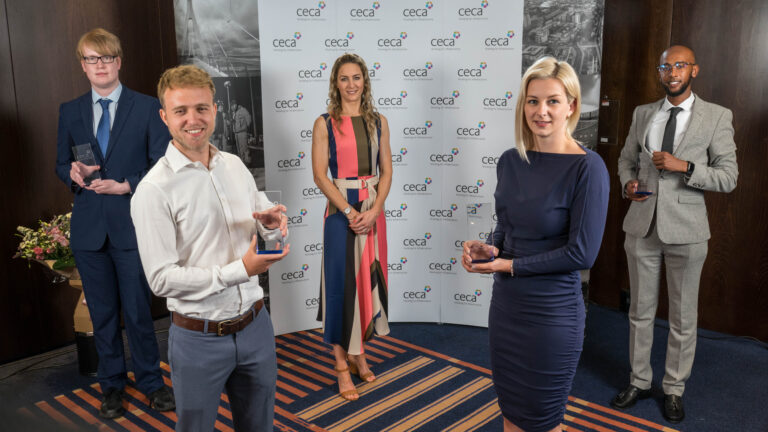 From Left to Right: Alex Viner, Henry Paveley, Amy Williams, Alice Stewardson, Naim Suleiman