CONGRATULATIONS TO OUR 2021 AWARD WINNERS:
Most Promising Industrial Placement – Henry Paveley – see Henry's video here
Most Promising Apprentice – Alex Viner – see Alex's video here
Most Promising Trainee Quantity Surveyor – Alice Stewardson – see Alice's video here
Most Promising Trainee Civil Engineer – Naim Suleiman – see Naim's video here
The Awards event took place on Friday 2 July 2021 at 2pm at the Crowne Plaza London Gatwick and was hosted by Amy Williams MBE, Britain's gold medal heroine at the 2010 Winter Olympic Games, along with CECA Southern Chair, Samantha Barratt, and NextGen CECA Southern Foundations Group Chair, Ian Alberto.
The virtual event was live streamed on You Tube. You can watch it here.
Each winner received an inscribed memento and cash prize of £500.
The judges were also pleased to make some "Highly Commended" awards. These awards are worth £250.
Highly Commended Industrial Placement – Riana Hattrell
Highly Commended Industrial Placement – Prince Bahati
Highly Commended Apprentice – Elizabeth Lewis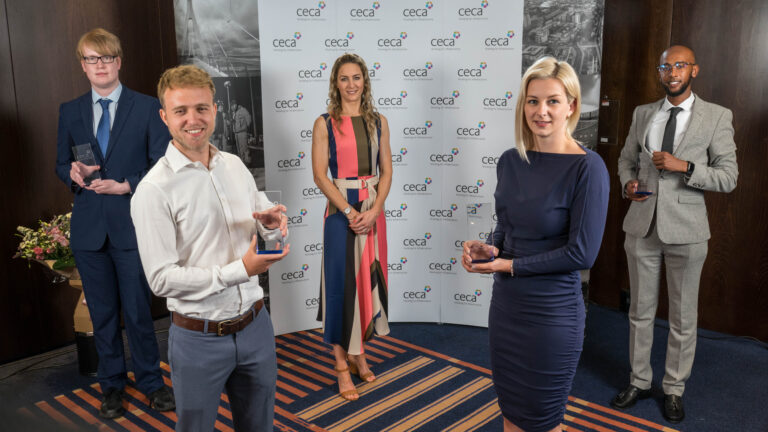 From Left to Right: Alex Viner, Henry Paveley, Amy Williams, Alice Stewardson, Naim Suleiman