On 15 February TfL reached another huge milestone for the Silvertown Tunnel scheme by completing the first tunnel bore.  'Jill' the Tunnel Boring Machine (TBM) has now arrived in Greenwich and will be rotated in sections over the coming weeks, ahead of tunnelling the second bore.
As the TBM has worked its way under the Thames, a conveyor system built to remove excavated materials, has helped transport 275,000 tonnes of spoil from the tunnel.  Once tunnelling recommences, spoil from the second tunnel will be fed back via the conveyor system installed within the first tunnel to allow it to also be removed by barge from the Newham site.  Work on the second bore will begin in weeks and is expected to be completed by summer 2023.
As ever, TfL remain committed to ensuring that this project is delivered with minimal impact to those living, working and visiting the local area and have extensive monitoring in place to ensure than this continues to be the case during and after construction.
In recent months, significant progress has been made on both sides of the river on the project with work on the two tunnel portal buildings also progressing well. Alongside the construction of the tunnel, TfL are also actively working on the designs for the walking, cycling and landscaping improvements, which will be delivered around either side of the tunnel entrances. These will see new dedicated cycleways and footways, as well as 'shared space' and new public realm installed across Tidal Basin Road roundabout, which will link in with wider improvements planned by Newham Council across the Royal Docks area. The proposed landscaping around the tunnel entrances, as well as a green roof on both tunnel portal buildings, will also form part of the scheme's commitment to environmental improvements and promoting biodiversity across the wider area.
Construction has also commenced on the new walking and cycling bridge across the A102, which will replace the existing 1960s footbridge with a new, fully accessible bridge built to modern design standards and improved lighting. The new bridge will provide a safe and easily accessible crossing for those walking and cycling, including those using cargo bikes, on the Greenwich Peninsula and has also considered future neighbouring development proposals. The main span of the new bridge will start to be installed later this Spring, and the existing bridge will be kept in use until the new bridge is fully opened.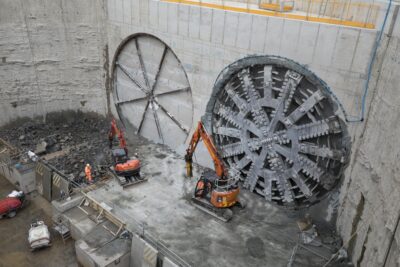 Please also find (above) a picture of the TBM in the Rotation Chamber in Greenwich, and (below) a short video clip of the breakthrough.  If you would like any further information on any of the above please do not hesitate to get in touch.
To follow progress of the TBM as it returns under the Thames, please visit www.riverlinx.co.uk.  For more information about the Silvertown Tunnel, please visit www.tfl.gov.uk/silvertown-tunnel.