The 2018 Annual Members' South West Lunch took place at The Grand Hotel, Torquay on Friday 5 October. Aside from member networking and the opportunity to host colleagues and clients, the Lunch included the presentation of the CECA (South West) Training Awards – celebrating the remarkable achievements of the young women and men who are our rising stars.
The guest speaker was Miles Hilton-Barber, blind adventurer and motivational speaker – you can read more about Miles on his website.
2018 CECA South West Award Winners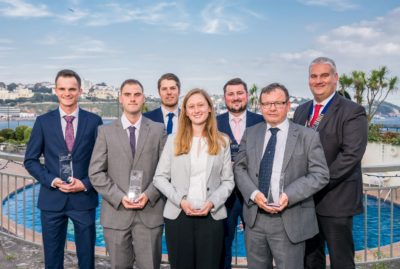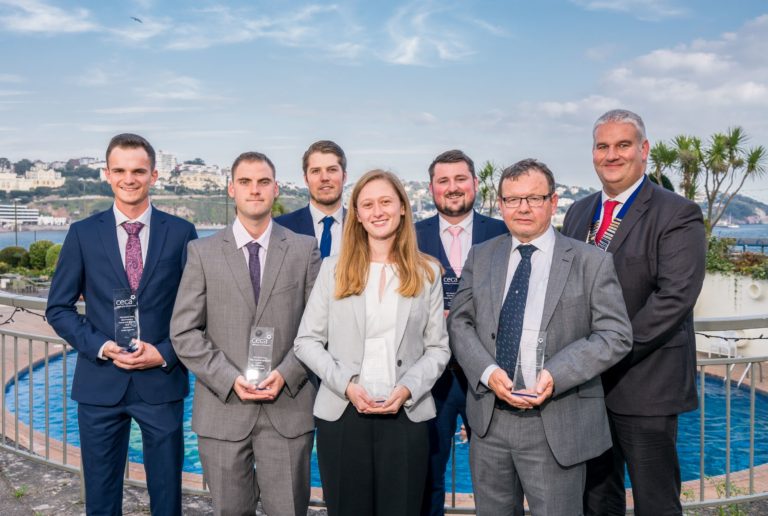 Above: the CECA South West 2018 Award winners. From L to R:  Jordan Anderson (Knights Brown); Ashley English (South West Highways); Michael Wilcox (Dyer & Butler and the University of Plymouth);  Ana Johnson Portales (Skanska and the University of Bath); Liam Derrick (Alun Griffiths); Phil Howard (BAM Ritchies); and CECA South West Chairman Jon Benton (I&H Brown).
CECA South West would like to congratulate all the winners of the CECA South West Awards:
University of Bath Industrial Placement Award – Ana Johnson Portales
University of Plymouth Industrial Placement Award – Michael Wilcox
Most Promising Apprentice – Ashley English (South West Highways Ltd)
Most Promising Trainee Quantity Surveyor – Liam Derrick (Alun Griffiths Ltd)
Most Promising Trainee Civil Engineering – Jordan Anderson (Knights Brown)
Outstanding Contribution /Lifetime Achievement Award – Phil Howard (BAM Ritchies)